he should not have left me alone so soon... i've been wedding planning all weekend. so much for not caring. seriously though, look how gorgeous: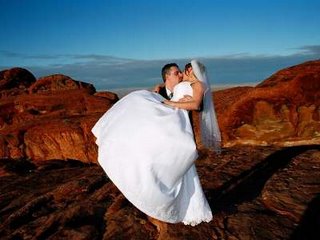 we started talking about vegas and how cool that would be, but i really don't want something tacky like a drive through or elvis impersonator. i want something simple, quick and easy, but also romantic and memorable.

seriously though, is this not breathtakingly gorgeous?:




i want this! at sunset, how romantic. although of course i wouldn't have a ballgown and viel. maybe something really simple like this dress from jcrew (in white of course, not navy!) or this one from david's bridal. sigh, i guess i am going officially nuts...